Mainers To Be Thankful For: As our state continues to grapple with the tragedy that took place last month in Lewiston, thankfulness is hardly the foremost emotion. But there have been numerous acts of remarkable bravery, extreme selflessness and effusive support.
Resources for anyone who wants help coping trauma after the Oct. 25 mass shooting in Lewiston.

The Governor's Children's Cabinet convened a special meeting Tuesday to discuss efforts to provide resources to students and teachers coping with the state's worst mass shooting.
Lewiston Lives Lost
Complete Coverage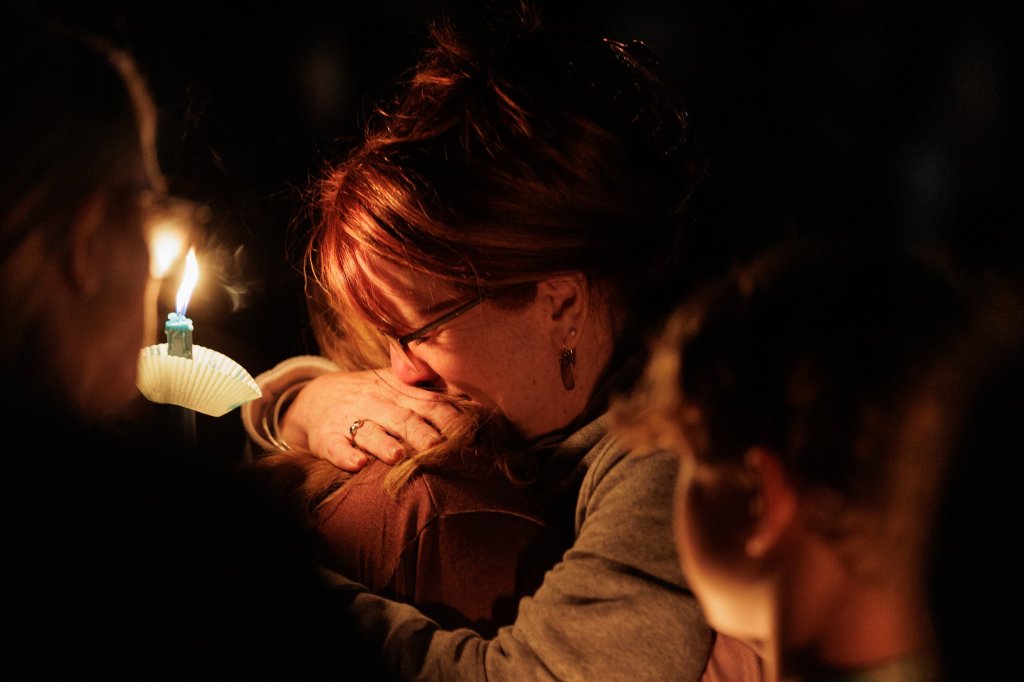 Arthur Barnard, whose son Arthur Strout was killed in the Oct. 25 rampage, wants to have a seat on the commission investigating the shootings. An attorney representing the family said other victims' families also want to be involved.

Larry, along with his son, Jeff, daughter-in-law and two grandchildren had each been present at scenes of the shootings that Wednesday. Larry and Jeff had been at Schemengees Bar & Grille and his daughter-in-law and two grandchildren had been at Just-in-Time Recreation.

Each agency posed for a photo with the council, and the ceremony was capped off with a group photo that filled the entire area around the City Council dais. 

Mainers to Be Thankful For: After the Lewiston shootings, Thibodeau found strength in the deaf community, her family, and strangers.

Two top Republican senators expressed frustration with a lack of lawmaker involvement in the commission, though Democratic leaders said they generally support the request for subpoena powers.

The former Republican governor and Lewiston native hopes to distribute the money to the families of the 18 people killed and 13 survivors before Christmas.

The commission appoints 4 staff members, says it plans to issue a written report on its findings within 6 months and plans to ask the Legislature for authorization to issue subpoenas.

Medical providers from across the state gathered Sunday afternoon with Maine Providers for Gun Safety in response to the Oct. 25 mass shooting and other gun violence in Maine and across the nation.

A crowd of about 150, including Brunswick's legislative delegation, attended a rally for gun control legislation organized by Bowdoin College students.

Those who survived the worst massacre in Maine's history carry unimaginable scars, including four women who were inside Schemengees Bar & Grille when a gunman opened fire.

Four deaf people were killed and five others were injured when Robert Card opened fire at Schemengees Bar & Grille. But for hours afterward, interpreters were kept out of critical information sharing.

Thirteen of the 18 people killed in the Oct. 25 shootings were not Lewiston residents.

The public session of the meeting, which will be livestreamed, will be at 10 a.m. Monday in the Cross Building, Room 209, in Augusta.

The service was a mix of lightheartedness and anguish. When Joe's daughter, Bethany Welch, shared her memories of her Dad, so many people wept in the pews that several boxes of tissues were passed around and a whole lot of people needed them.

A similar proposal didn't make it out of committee in 2017, and some legislative leaders said they are opposed to Rep. Jim White's bill to assign liability to owners of gun-free zones where people are hurt or injured.

Earning his CDL license was one of his biggest accomplishments.

Tributes to victims of last month's mass shooting removed from front of bowling alley in Lewiston.

Organization explains how the public can help identify all who are directly affected by the mass shooting.

After a shooting that left 18 dead in two locations on Oct. 25 in Lewiston, several fundraiser pages have appeared to help the victims and their families to recover from the emotional trauma and financial strains.

He enjoyed playing and watching many different types of sports.

A list of after-deadline bill requests for the upcoming session includes more than a half-dozen proposals, from tightening gun safety laws to discouraging gun-free zones.

Selectmen also approved grant funds and expenses for the Police Department on Tuesday.

Gavin Robitaille, 16, was recently released from Mass General for Children, according to a Wednesday statement from the Robitaille family.

The seven-member panel appointed by Gov. Janet Mills will meet Monday in Augusta to discuss the path forward in investigating the Oct. 25 shootings.

Students, staff, faculty and administrators at University of Southern Maine Lewiston-Auburn College reflected Tuesday on the Oct. 25 mass shooting which took 18 lives.

The law has come under scrutiny because it was not used to remove weapons from the man who killed 18 people in Lewiston on Oct. 25

Many parents do not want to see the school year extended in June because of too many canceled days.

The Portland-based company is giving 30% of the proceeds from this special collection to the Lewiston-Auburn Victims & Families Fund.

Dr. Anthony Ng said it is still 'really early' in recovering from the trauma of October 25 murders in Lewiston.

The center is available to anyone who needs help, with walk-in hours from noon to 5 p.m. during the week.

Sun Journal photographers select some of their favorite images from last week.

Prince of Peace Parish in Lewiston invited the public to an interfaith concert Sunday afternoon to help in the aftermath of the Oct. 25 mass shooting.

Experts acknowledge that every mass shooting is different but say the Maine city is likely to feel lingering effects of anguish for years.

Actor Patrick Dempsey and former Boston Red Sox pitcher Bill 'Spaceman' Lee joined 25 teams and special guests gathered Saturday for a daylong Lewiston Strong Memorial Benefit Softball Tournament held at venues in Lewiston and Auburn.

In his first in-depth interview about the Oct. 25 mass shooting, Chief David St. Pierre reflects on the events of that night and the effect they have had on his officers and the city.

For some, mass murder is a 'false flag' operation designed to seize guns.

He was a competitive bowler with two children.

He was a man of many hobbies and interests.

The celebration of life for Bill Young, 44, and Aaron Young, 14, was held at Hope Baptist Church in Manchester on Friday, drawing more than 200 family and community members.

Patrick Dempsey and Bill "Spaceman" Lee are among players competing in Saturday's day-long tournament at fields in Lewiston and Auburn.

He was a kid who enjoyed his hobbies and spending time with friends.

Snow covered flowers, decaying pumpkins and other memorial items for the Oct. 25 mass shooting victims will be removed soon from the lawn in front of Just-In-Time Recreation.

He was known as the backbone of his family.

The program will air on Maine Public Television and Maine Public Radio at 7 p.m. on Friday, Nov. 10.

Natalie Beaudoin, 17, a senior at Lewiston High School, is one of several people across Maine to have designed clothing to sell as fundraisers in the wake of the Oct. 25 killings.

Charlie Hewitt's gift is to honor the medical professionals, first responders and volunteers who worked tirelessly in wake of the Oct. 25 shootings.

The governor signed an executive order Thursday to formally create the commission.

The Office of Gun Violence Prevention, which sent a team to Lewiston 4 days after the shootings, says it is designed to respond swiftly to help communities recover from mass shootings.

Through her NIL deal, Blue Devils basketball player selling "We are Lew1ston" shirts.

The Maine Resiliency Center at 184 Main St. in Lewiston will open at noon on Monday. Community Concepts Inc. is partnering with the state, city and other community partners to open the facility which will offer those impacted by the Oct. 25 mass shooting a place for services.

Not only was actor Patrick Dempsey announced Tuesday as People magazine's Sexiest Man Alive, he is also coming back to Maine to help support Lewiston and the victims of the Oct. 25 mass shooting.

Two women sell seafood in Lewiston to raise funds for victims and families of the recent mass shooting.

It's something survivors and advocates have wanted for years as gun violence continues to plague the nation.

Former state Sen. John Nutting implored Gov. Janet Mills on Wednesday to direct state agencies to better implement what's known as the Progressive Treatment Program.

SBA low-interest loans and some grants are available two weeks after shelter-in-place orders were issued.

Brunswick police officers spent nearly 600 hours responding to the Lewiston mass shooting and ensuing manhunt.

Seal was known to the public as a deaf interpreter for press conferences.

The attorneys, Josh Koskoff of Connecticut and Jamal Alsaffar of Texas, promote the power of the legal system to hold companies and institutions accountable for things they do, or don't do, that lead to mass shootings.

The governor hopes to cover the costs through a crime victims fund and her contingent account, her spokesman says.

Maine Museum of Innovation, Learning and Labor is collecting items from around the city to display at its headquarters.

Bob enjoyed sharing his wisdom while coaching children in the local youth bowling league.

She was a proud grandmother to her six grandchildren.

Records released by Saco police show officers staked out the center in case Robert Card followed through on an earlier threat to 'shoot up' the facility.

Central Maine Medical Center officials said one patient who was in critical condition has been upgraded to stable.

Maine's U.S. senators ask Army to probe its handling of Robert Card, the Lewiston shooter who served as a reservist.

After the funeral, family and friends met at Legends Pool Hall in Lewiston for a celebration of life for Strout, a passionate billiards player who was practicing the night he was killed.

In the days before the Oct. 25 mass shooting, Conrad, 34, planned a pumpkin carving event for his 9-year-old daughter, Caroline, at Just-In-Time Recreation. On Sunday, the local bowling community came together to make sure it happened.

About 30 cyclists rode 18 miles Sunday to honor the 18 victims who died Oct. 25 in the mass shooting.

Peyton Brewer-Ross, a Bath Iron Works shipbuilder, was one of 18 people killed in the Lewiston mass shooting. He left a fiancée and 2-year-old daughter.

Gun safety is certain to dominate debate in the State House when lawmakers return in January, but options may be limited – members of both parties voted to block gun safety bills this year.

There are still many unknowns, but a harrowing question weighs heavy: Could one of the deadliest mass shootings in U.S. history also have been the most preventable?

The community has always soldiered on, counting on its own people and its own resources to create something better.

It's time for votes and actions, not just thoughts and prayers.

As a conservative high court weakens gun laws, America pays the price.